SPARK! is a cultural program for people with early to mid-stage memory loss and their care partners. Programs are designed to keep participants actively engaged in their communities by providing experiences that stimulate conversations, provide peer support and inspire creativity through creative engagement, workshops and programs.
SPARK! programs are FREE for families to attend together in a comfortable environment led by specially trained staff and volunteers.
SPARK! programs typically last 60-90 minutes and group sizes are limited, so please pre-register for the programs you plan to attend. Each program is unique and include topics such as cooking, art-making, drama/dance, music/song, poetry and storytelling. SPARK! programs are designed to be offered on various days and times to encourage attendance at multiple locations in your region.
All SPARK! facilitators have been trained by Alzheimer's professionals and collaborate with community partners to continually enhance programming.
SPARK! and The Playhouse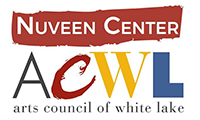 In collaboration with the Arts Council of White Lake-Nuveen Center, the Playhouse will be the host site for a SPARK! program series occurring on the fourth Thursday of each month.
Individuals with memory loss are invited to participate, along with a friend, family member, or care partner, in engaging conversations inspired by art and theater. Each program includes a creative, art-making activity.
The programs are free of charge, but advance registration is required.
This FREE program is made possible by the Muskegon County Senior Millage, the Cheryl Whelan Family, the White Lake Community Center Fund, and the White Lake Lothmann Family Fund of the Community Foundation for Muskegon County.
---
<! end footer -->