Proceeds from the purchase of the items described below support the operations of the The Playhouse at White Lake!
Show Your Support for the Grand Old Lady
To celebrate our centennial and beyond, we are offering some wonderful merchandise: shirts, vintage 1920s movie ticket necklaces, key chains, and more.
These items may be purchased from our secure Playhouse Spirit Sale online store.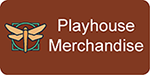 These items are also available at The Playhouse box office during shows.

<! end footer -->