The 2016 Summer Theatre Festival
Every Thursday, Friday and Saturday
from July 7 through August 20
All Shows Begin at 7:30 pm (Unless otherwise noted)
The Summer Theatre Festival Cast and Playhouse Staff
| | |
| --- | --- |
| The Summer Theatre Festival is brought to you in part by | |
Rounding Third
by Richard Dresser
Directed by Kent Brown
July 7-9
7:30 pm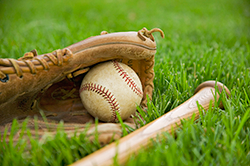 Rounding Third introduces us to two coaches—one a veteran, the other a new recruit—and their markedly different personal circumstances and philosophies about the game,' according to production notes. Their clash of styles and wills drives this funny, acerbic and touching play through the bumpy terrain of fatherhood and baseball. [Playbill]
The play is about two Little League coaches through an entire season, from their first meeting to the climactic championship game. The audience stands in for the team, so the coaches speak directly to them about competition, punctuality, and wearing the right equipment. Don is the tough, win-at-all-costs veteran coach whose son is the star pitcher. Michael is a newcomer to baseball who agrees to be Don's assistant because he wants a special activity with his son.
Suitable for all ages • Production underwritten by Libby Keenan
Central Michigan University Triple Show Weekend

July 14-16
Each show at 7:30 pm
The talented and always delightful students of CMU's Summer Theatre touring company are back by popular demand with these performances:
July 14 Shady Business  
This madcap farce is a roller coaster of crazy events and mistaken identities that doesn't stop until the last side-splitting conclusion.
July 15 Marriage is Murder 
"Ex-spouses Paul and Polly Butler write murder mysteries together. They act out the crimes in Paul's apartment: poisoned chocolates and lethal martinis, alibis and fingerprints, bodies in a trunk and bodies all tied up, daggers, guns and even an axe all contribute to the hilarity." Samuel French
July 16 Dearly Departed 
"Not since Steel Magnolias has a more colorful and dysfunctional group of Southern eccentrics gathered below the Mason-Dixon line. When the patriarch of the Turpin family keels over dead, the Turpin family proves that living and dying in the South are seldom tidy and always hilarious." Dramatists Play Service
Bakersfield Mist
July 21-23
7:30 pm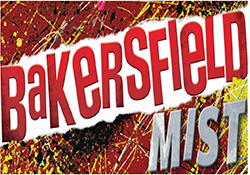 Maude, a fifty-something unemployed bartender living in a trailer park, has bought a painting for a few bucks from a thrift store. Despite almost trashing it, she's now convinced it's a lost masterpiece by Jackson Pollock worth millions. But is this the find of the century or a clever forgery? When eminent New York art historian and expert Lionel Percy arrives at Maude's trailer to evaluate the painting, the two embark on a fiery debate over class, truth, and what we personally perceive as valuable. Inspired by true events, Bakersfield Mist is a lively and delightful comedy about what makes art and people truly authentic.
Strong language and adult themes • Production underwritten by Michael Keenan
White Lake Youth Theatre Presents
The Stinky Cheese Man and Other Fairly Stupid Tales
July 28 & 30 at 7:30 pm
July 29 at 3:00 pm
Tickets are $10 for adults, $6 for students
Though the characters may be familiar, each of your favorite storybook fables is uproariously derailed in this adaptation of Jon Scieszka and Lane Smith's quintessential children's book of fractured fairy tales. Everything from Chicken Little to The Gingerbread Man gets a complete makeover. Fun music and witty narration accompany the likes of ineloquent giants, sassy barnyard animals, colossal cow pies, and enough stinky cheese to go around.
Download* cast list
* Adobe Reader is required to open and view PDF documents. Depending upon your browser, the downloaded document will either open in a new window or be downloaded directly to your computer. You may then print it and/or save it to your computer.
Suitable for all ages.
Quilters
August 4-6
7:30 pm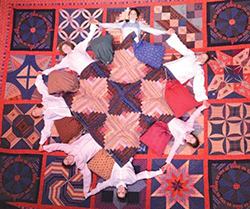 Ostensibly the story of a pioneer woman and her six daughters, Quilters blends a series of interrelated scenes into a rich mosaic which captures the sweep and beauty, the terror and joy, the harsh challenge and abiding rewards of frontier life. Illuminating stories contained in various patches or "blocks" with music, dance and drama, the action depicts the lot of women on the frontier: girlhood, marriage, childbirth, spinsterhood, twisters, fire, illness and death. But, with this, there is also love, warmth, rich and lively humor, and the moving spectacle of simple human dignity and steadfastness in the face of adversity. In the end, when the various patches are assembled into one glorious, brilliantly colorful quilt, the effect is both breathtaking and magical—and a theatrical masterstroke which will linger in the mind and memory long after the house lights have dimmed.
May not be appropriate for younger patrons • Production underwritten by Johnson-Miller Foundation
Sherlock Holmes and the Final Adventure 
August 11-13
7:30 pm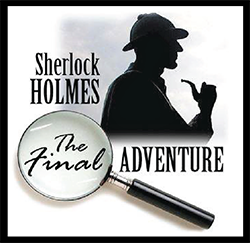 The world's greatest detective has seemingly reached the end of his remarkable career when a case presents itself that is too tempting to ignore: The King of Bohemia is about to be blackmailed by a notorious photograph, and the woman at the heart of this crime is the famous opera singer, Irene Adler. With his trusted companion, Doctor Watson, at his side, Sherlock Holmes pursues first the case, and then the affections of Miss Adler—and in doing so, marches right into the lair of his longtime adversary, that malevolent genius of crime: Professor Moriarty. In this spirited, fast-moving and thoroughly theatrical adaptation, Steven Dietz presents Holmes at the height of his powers—surrounded by all the elements that fans of his exploits have come to expect: danger, intrigue, wit, humor and surprise. "The game is afoot, Watson—and it is a dangerous one!"
This program is made possible in part by a grant from the Leonard and Edna K. Blomdahl Fund, advised by the White Lake Community Fund of the Community Foundation for Muskegon County.
Appropriate for ages 13 and up • Production underwritten by The Leonard and Edna K. Blomdahl Fund

On Golden Pond
August 18-20
7:30 pm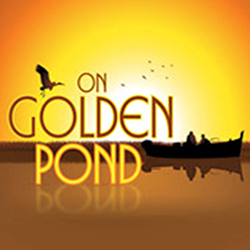 This is the love story of Ethel and Norman Thayer, who are returning to their summer home on Golden Pond for the forty-eighth year. He is a retired professor, nearing eighty, with heart palpitations and a failing memory—but still as tart-tongued, observant and eager for life as ever. Ethel, ten years younger, and the perfect foil for Norman, delights in all the small things that have enriched and continue to enrich their long life together. They are visited by their divorced, middle-aged daughter and her dentist fiancé, who then go off to Europe, leaving his teenage son behind for the summer. The boy quickly becomes the "grandchild" the elderly couple have longed for, and as Norman revels in taking his ward fishing and thrusting good books at him, he also learns some lessons about modern teenage awareness—and slang—in return. In the end, as the summer wanes, so does their brief idyll, and in the final, deeply moving moments of the play. Time, they know, is now against them, but the years have been good and, perhaps, another summer on Golden Pond still awaits.

Suitable for all ages • Production underwritten by Carmichael Heating and Air Conditioning

The Howmet Playhouse is a year-round venue. Be sure to visit the EVENTS menu for our complete schedule of plays, music, movies, and more.

<! end footer -->