The 2017 Summer Theatre Festival
Every Thursday, Friday and Saturday
from July 6 through August 19
All Shows Begin at 7:30 pm (Unless otherwise noted)
The Summer Theatre Festival Cast and Playhouse Staff
The Summer Theatre Festival Brochure*
| | |
| --- | --- |
| The Summer Theatre Festival is brought to you in part by | |
by Cece Dwyer
Directed by Justin Sternburgh
July 6-8
7:30 pm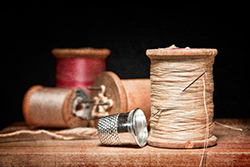 It is 1916, a time when women's rights are far from equal. Cynthia McFarland, attractive and gracious wife of the extremely wealthy, albeit licentious and abusive, Richard McFarland, finds herself in a desperately compromising position. He wants the requisite wife in an attempt to enter politics. She wants to free herself from a brutal relationship. At Richard's offhand suggestion, Cynthia hires Andorra Hamilton, a beautiful young seamstress, to be a working guest in their home and outfit her for the upcoming social season and political functions, initiating a series of events that unravel the secret lives of everyone in the McFarland mansion.
Not for young audiences
Central Michigan University Triple Show Weekend

July 13-15
Each show at 7:30 pm
The talented and always delightful students of CMU's Summer Theatre touring company are back by popular demand with these performances:
July 13 For the Love of Juliet
A romantic comedy in which the leading lady chooses an imaginary man over a real man. A tribute to theatre and the women in it! Julie has dedicated herself to a muse named Romeo who is grooming Julie for a Broadway debut as Juliet in Romeo and Juliet. Alex, the irresponsible love of Julie's life, returns from a five-year voyage to find himself and now he wants to recapture Julie's heart. To the muse's opposition, Julie goes on a date, and her heart is torn between Alex's apparent love for her and the muse who is always around commenting on Alex's every word. Oh, by the way, Alex also has a muse-in-training named Ginger, who not only needs a lot of attention, but keeps distracting Romeo because she likes Romeo. Will Julie choose the imaginary man or the real man? And are imaginary men more helpful and fun?
Ages 14 and up
July 14 Twain by the Tale
In this two act revue of Mark Twain Stories, Sketches, and Monologues, the wit and timeless perceptions of America's greatest humorist are celebrated. Twain's talent for documenting the chronic and comic weaknesses of human nature is the focus of this easily stageable show. Sprinkled through the show are Twain's unreserved thoughts on friendship, vice, good breeding, the origin of the species, as well as appearances by the author himself. Twain once advised the news media, "The reports of my death are greatly exaggerated." Audiences and performers will echo that sentiment after enjoying this bright sampler of material from his work.
Suitable for All Ages
July 15 LOVE/SICK
A darker cousin to Almost, Maine, John Cariani's LOVE/SICK is a collection of nine slightly twisted and completely hilarious short plays. Set on a Friday night in an alternate suburban reality, this 80-minute romp explores the pain and the joy that comes with being in love. Full of imperfect lovers and dreamers, this play is an unromantic comedy for the romantic in everyone.
Ages 14 and up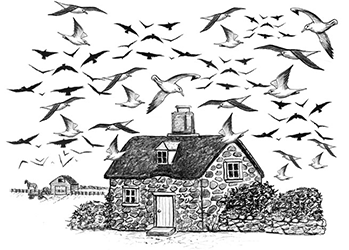 July 20-22
7:30 pm 
Daphne du Maurier's short story, also the basis for Alfred Hitchcock's classic film, is boldly adapted by Conor McPherson—a gripping, unsettling, and moving look at human relationships in the face of societal collapse. In an isolated house, strangers Nat and Diane take shelter from relentless masses of attacking birds. They find relative sanctuary but not comfort or peace; there's no electricity, little food, and a nearby neighbor may still be alive and watching them. Another refugee, the young and attractive Julia, arrives with some news of the outside world, but her presence also brings discord. Their survival becomes even more doubtful when paranoia takes hold of the makeshift fortress—an internal threat to match that of the birds outside.
Mature audiences
White Lake Youth Theatre Presents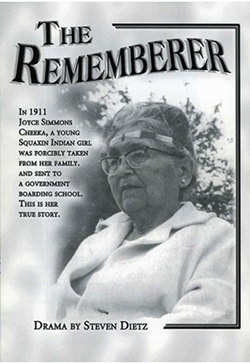 The Rememberer

July 27 & 29 at 7:30 pm
July 28 at 3:00 pm

Tickets are $10 for adults, $6 for students

The Rememberer tells the true story of Joyce Cheeka, a young Squaxin Indian girl, who is forcibly taken from her home and placed in a government-run school in 1911. As the chosen "rememberer" for her tribe, an honor passed down to her from her grandfather, Mud Bay Sam, it is Joyce's duty to pass on the stories, history and wisdom of her people. However, the aims of the white boarding school are quite the opposite. Their job is to eliminate any trace of Joyce's heritage. Through her friendship with the headmaster at the school, and with the help of her "spirit guide," Joyce succeeds in forming a bridge between this new world and the world of her ancestors. Through her patience, grit, humor, curiosity and inclusiveness of spirit, she does honor to the words of her elders: "Each day is a gift. And to waste that day is inexcusable. Account for yourself. Be useful." Joyce Simmons Cheeka lived a remarkable, heroic and, indeed, useful life.

Ages 7 and up

August 3-5
7:30 pm  

A tribute from Ken Ludwig (Lend Me A Tenor, Moon Over Buffalo) to the great English farces of the 1930s and 1940s, The Fox On the Fairway takes audiences on a hilarious romp which pulls the rug out from underneath the stuffy denizens of a private country club. Filled with mistaken identities, slamming doors, and over-the-top romantic shenanigans, it's a furiously paced comedy that recalls the Marx Brothers' classics. A charmingly madcap adventure about love, life, and man's eternal love affair with…golf.

Ages 11 and up

August 10-12
7:30 pm  

The Seafarer is a chilling play about the sea, Ireland, and the power of myth. It's Christmas Eve, and Sharky has returned to Dublin to look after his irascible, aging brother who's recently gone blind. Old drinking buddies Ivan and Nicky are holed up at the house too, hoping to play some cards. But with the arrival of a stranger from the distant past, the stakes are raised ever higher. Sharky may be playing for his very soul.

For mature audiences




August 17-19
7:30 pm  

When the biggest highlight of your life for the past thirty years has been your weekly card night out with the girls, what do you do when one of your foursome inconveniently dies? If you're Connie, Leona, and Millie, three southern ladies from Birmingham, you do the most daring thing you've ever done. You "borrow" the ashes from the funeral home for one last card game and the wildest, most exciting night of their lives begins with a police raid, a stripper, laughs, and a whole new way of looking at all the fun you can have when you're truly living.

For mature audiences

The Howmet Playhouse is a year-round venue. Be sure to visit the EVENTS menu for our complete schedule of plays, music, movies, and more.

<! end footer -->