Theater Box Office Hours
Season Passes are your best value. Make a single purchase, then pick and choose the plays you wish to attend. For further information about how Season Passes work, please visit the Tickets page.
Single Show Tickets
Content Advisory: The Playhouse does not offer advisories about subject matter, as sensitivities vary from person to person. If you have any questions about content, age-appropriateness, or stage effects (such as strobe lights or theatrical fog) that might have a bearing on patron comfort, please Contact Us via this website or call (231) 894-0119.
back to top of page …
News from The Playhouse
The Summer Theatre Festival Cast and Playhouse Staff *
The Summer Theatre Festival Brochure *
Central Michigan University Double Show Weekend
Sylvia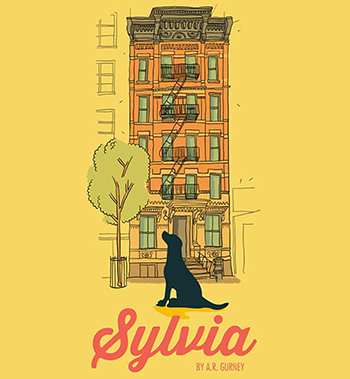 by AR Gurney
Directed by Steve Berglund
July 9
7:30 pm
Greg and Kate have moved to Manhattan after twenty-two years of child-raising in the suburbs. Greg's career as a financial trader is winding down, while Kate's career, as a public-school English teacher, is beginning to offer her more opportunities. Greg brings home a dog he found in the park—or that has found him—bearing only the name "Sylvia" on her name tag. A street-smart mixture of Lab and Poodle, Sylvia becomes a major bone of contention between husband and wife. She offers Greg an escape from the frustrations of his job and the unknowns of middle age. To Kate, Sylvia becomes a rival for affection. And Sylvia thinks Kate just doesn't understand the relationship between man and dog. The marriage is put in serious jeopardy until, after a series of hilarious and touching complications, Greg and Kate learn to compromise, and Sylvia becomes a valued part of their lives.
Red Herring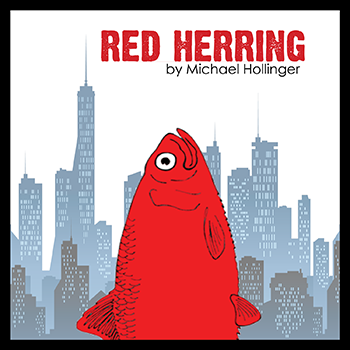 by Michael Hollinger
Directed by Keeley Stanley-Bohn
July 10
7:30 pm
Three love stories, a murder mystery, and a nuclear espionage plot converge in this noir comedy about marriage and other explosive devices. It's 1952: America's on the verge of the H-bomb, Dwight Eisenhower's on the campaign trail, and I Love Lucy is on Monday nights. Meanwhile, Senator Joe McCarthy's daughter just got engaged to a Soviet spy, and Boston detective Maggie Pelletier has to find out who dumped the dead guy in the Harbor—or else lose out on a honeymoon in Havana. A blunt-nosed, sharp-eyed look at love and tying (and untying, and retying) the knot.
---
Tea for Three: Lady Bird, Pat & Betty
July 15, 16, 17
7:30 pm
July 18 (Sunday)
2:00 pm
What is it like for a woman when her husband becomes the president of the United States—and she is suddenly thrust into the spotlight? This witty, sly, and deeply moving script explores the hopes, fears, and loves of Lady Bird Johnson, Pat Nixon, and Betty Ford. In three scenes taking place in the family quarters of the White House just prior to the end of living there as the wife of a president, each of the women confides alone to the audience. Secrets are spilled about their early years, their husbands' rise to power, their romances with the men, their unique paths as wives in the White House, and their feelings about imminent retirement. Each of the three portraits becomes intimate, by degrees, as the women wrestle with what Pat Nixon called "the hardest unpaid job in the world.".
This production was underwritten by Libby Keenan
---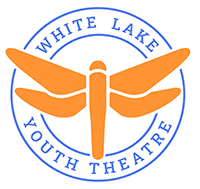 White Lake Youth Theatre Presents
Two One Acts: Paper or Plastic & Our Place
Both plays will be presented back-to-back at each performance
Director for both Cindy Beth Davis-Dykema
July 22, 23
      7:30 pm
July 24
      2:00 pm

Paper or Plastic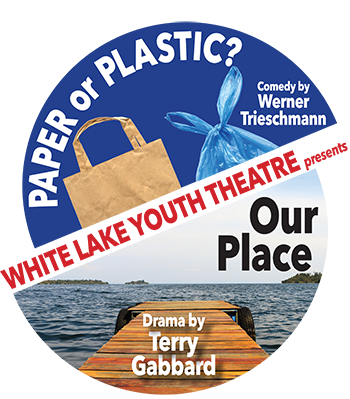 Written by Werner Trieschmann
For her first job, teenage Sarah thinks she's easily qualified to check out customers at Puritan Foods, her local grocery store. At least it has to be better than serving up greasy fast food, right? But Sarah isn't prepared for Carl, the assistant manager, who refuses to deal with unruly customers because he's too busy putting up Christmas displays in August. And she isn't ready to deal with the customer who can't put down her cellphone long enough to acknowledge that Sarah is there. Or the two dudes who use their time in the checkout line to launch into an existential argument about the environment. And what about the mysterious cowboy or, even worse, Angus, the person who Carl warns Sarah about the day she's hired. Then there are her crazy co-workers who put on camouflage to hunt down stray grocery carts or live in closets and subsist on Twizzlers to avoid Carl. All Sarah wants is the answer to the simplest question in the world: Paper or plastic?
Our Place
Written by Terry Wayne Gabbard
Our Place is a one act play comprised of five different scenes featuring different characters who visit the same wooden dock that extends out onto a lake. The motivations for each character's visit to the dock are different, but through humor and tragedy, they all learn what it means to experience joy and sorrow, love and heartbreak, and ultimately, life and death.
These productions were underwritten by Carmichael Heating and Air Conditioning
---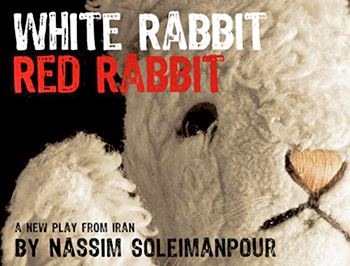 White Rabbit Red Rabbit
July 29, 30, 31
      7:30 pm
August 1
      2:00 pm (Sunday)
Will you participate? Will you be manipulated? Will you listen? Will you really listen? With no rehearsals, no director, a different actor each show, and a script waiting in a sealed envelope onstage, internationally acclaimed White Rabbit Red Rabbit, by Iranian writer Nassim Soleimanpour, is an audacious theatrical experiment and a potent reminder of the transgressive and transformative power of theater. Forbidden to leave his native Iran, Soleimanpour wrote a play which traveled the world in his place. The audience joins each different performer on a journey into the unknown; stumbling upon the personal and profound, the limits of liberty and ultimately where theater can take you.
This production was underwritten by Michael Keenan
---
The Last Five Years
August 5, 6, 7
      7:30 pm
August 8 (Sunday)
      2:00 pm
Jason Robert Brown's Drama Desk winner, The Last Five Years, has been translated into a handful of languages and was named one of TIME Magazine's ten best shows of 2001. A testament to the show's longevity, and spurred by the show's regional popularity, The Last Five Years enjoyed an Off-Broadway revival at Second Stage in 2013. An emotionally powerful and intimate musical about two New Yorkers in their twenties who fall in and out of love over the course of five years, the show's unconventional structure consists of Cathy, the woman, telling her story backwards while Jamie, the man, tells his story chronologically; the two characters only meet once, at their wedding in the middle of the show. This production features husband and wife duo, Derek Root Benson and Claire Root Benson.
This production was underwritten by Libby Keenan
---
The Playhouse at White Lake and My Air Productions Present: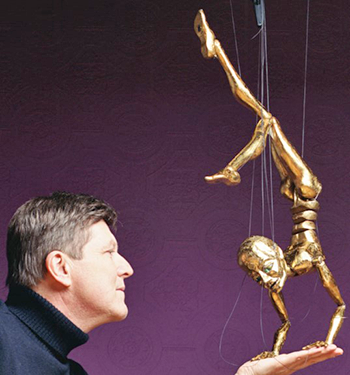 The Phillip Huber Marionette's
"Suspended Animation"
Recommended for ages 8 and above
August 14 (Saturday)
      2:00 pm & 7:30 pm
Emmy award-winning master and the puppeteer behind Being John Malkovich, Phillip Huber, brings a stunning range of marionettes in this sophisticated performance praised as "a marvel" by the L.A. Times. Huber also worked his puppetry magic in China Girl, in the Disney film Oz the Great and Powerful, and in many other artistic and theatrical productions internationally. The Huber Marionette's incredible, complex puppets and manipulations are famed around the world. Sure to delight all audiences and to surprise even the most knowledgeable puppet fans.
YouTube link: https://www.youtube.com/user/huberpuppet
---
If Only the Lonely Were Home and the Least Lonely Sing-Along
Theatre for Young Audiences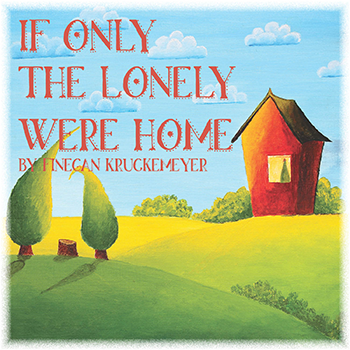 August 19, 20
      6:00 pm
August 21
      2:00 pm
Kids! Bring your favorite stuffed lovie and a loved one to snuggle up to for this sweet telling of the play, If Only the Lonely Were Home. Then, stick around for The Least Lonely Sing-Along, guided by our local story and music-makers Karen and Eric Smith as they take audience requests from the comfort and fresh air of the courtyard.
This production was underwritten by Carmichael Heating and Air Conditioning
---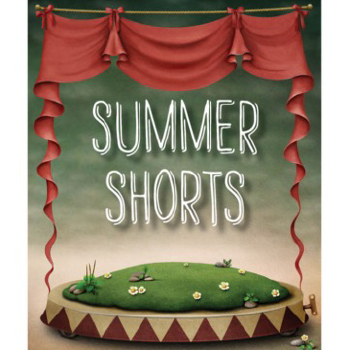 Summer Shorts

August 26, 27, 28
      7:30 pm
August 29 (Sunday)
      2:00 pm

Although short on length, the themes are as wide-ranging as the playwrights themselves. From laugh-out-loud humor to unexpected twists, this collection of plays will take audiences through stories of love, deception, hidden meanings, and loose endings.

Shorts include: The Pain in the Poetry by Glenn Alterman, For Unto Us by Stephen Alterman, The Presentation by Lia Romeo, The Pequod Meets the Ocean Steward Ahab by Bridgette Dutta Portan, Unsinkable by Michael McKeever, An Affair of Note by John C Davenport, Perfect Harmony by Paul Reeths, The Bookstore by Jennifer O'Grady, Choices by James McLindon, and Hair Today by Rich Rubin

This production was underwritten by the White Lake Area Chamber of Commerce and Visitor's Bureau

<! end footer -->