The 2014 Summer Theatre Festival
Every Thursday, Friday and Saturday
from July 10 through August 23
All Shows Begin at 7:30 pm (Unless otherwise noted)
The Summer Theatre Festival Cast and Playhouse Staff
Download the Summer Theatre Festival Program*
| | |
| --- | --- |
| The Summer Theatre Festival is brought to you in part by | |
Motherhood Out Loud 
by Leslie Ayvazian, Brooke Berman, David Cale, Jessica Goldberg, Beth Henley, Lameece Issaq, Claire LaZebnik, Lisa Loomer, Michele Lowe, Marco Pennette, Theresa Rebeck, Luanne Rice, Annie Weisman and Cheryl L. West
Directed by Kim Harsch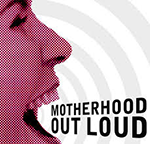 July 10-12
7:30 pm  
When entrusting the subject of motherhood to such a dazzling collection of celebrated American writers, what results is a joyous, moving, hilarious, and altogether thrilling theatrical event. Utterly unpredictable, Motherhood Out Loud shatters traditional notions about parenthood, unveils its inherent comedy and celebrates the deeply personal truths that span and unite generations.
Appropriate for mature audiences, adult language and themes
Central Michigan University Touring Company

July 17-19
Each show at 7:30 pm
The talented students of CMU's Summer Theatre touring company will return to the Playhouse stage with three performances that will knock your socks off! Join us for The Smell of the Kill, Murder by Natural Causes, and The Complete World of Sport (Abridged).
July 17 The Smell of the Kill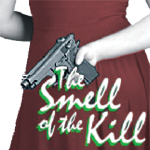 Take three delicious, malicious wives, add three miserable, unloving husbands-and chill. That's the recipe of Michele Lowe's tantalizing new comedy that had Broadway audiences cheering. The Smell of the Kill revolves around Nicky, Debra and Molly who have tolerated one another during once-a-month dinners for years. While their unseen spouses play golf in the dining room, the women exchange confidences for the first time revealing that all three marriages are on the brink of disaster and all three women are facing the challenges of their lives. Nicky's husband has been indicted for embezzlement, Molly's husband is stalking her and Debra's husband is leaving her for another woman. When the men mistakenly lock themselves in a basement meat locker the women are faced with a life-or-death decision: should they leave the men out in the cold? Permanently? or let them thaw? One by one the women make their choices with more than a little help from one another. "… nice, mean fun … a deft little anti-love story … light-hearted, cold-hearted … " (Newsday) "[a] devilish, wicked, ultimately touching black comedy." (The Berkshire Eagle) "Effective black comedies are rare these days and this is a rich torte … it has a superb crustiness which supplies an evening of nearly continuous laughter." (The Advocate) " … the play boasts lines and scenes that have the audience laughing as uproariously as The Producers." (Variety)
Appropriate for ages 17 to adult
July 18 Murder by Natural Causes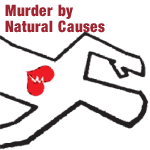 Here's a stylish and witty suspense play that originally starred Hal Holbrook, Katherine Ross and Barry Bostwick. It combines laughter with thrills and delivers what mystery fans love most—taut suspense with an ingenious plot. Arthur Sinclair is a successful world-famous mentalist in the tradition of Dunninger. His beautiful wife Allison plots his murder for the commonest of all motives—greed. She enlists the aid of a struggling young actor. Her foolproof murder plan cannot possibly misfire as it's too skillfully inventive—or is it? After all, Arthur (as everyone knows) has psychic gifts. But does he? Once the killing scheme is set in motion, the plot begins to twist and turn. Nothing is as it seems. Is mind reading possible? Can the future be foretold? Just when the audience figures out what will happen next, there is an unexpected shock to complicate matters in an amusing and scary fashion. The mystery builds to an exciting climax where Arthur's gifts not only save his life but also create a devilish new puzzle that will keep the audience on the edge of its collective seat. It will take all of your mental powers to solve this wildly clever and entertaining thriller.
Appropriate for ages 14 to adult
July 19 The Complete World of Sport (Abridged)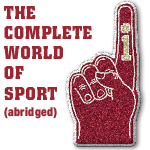 In a merciless but affectionate satire, written by The Reduced Shakespeare Company, the lunacy of sports is targeted. The result is a tour-de-farce of vaudevillian physical comedy that will delight every non-sports fan in the family. The Complete World of Sports (Abridged) is an audience-interactive, family-friendly show for all ages, "blending slapstick, sight gags, hernia-inducing puns, and genuine verbal wit." (Boston Globe) and has been featured in both ESPN and American Theatre magazines!
Appropriate for all ages
White Lake Youth Theatre Presents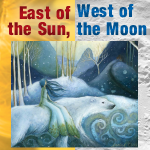 East of the Sun, West of the Moon
July 24, 26 at 7:30 pm
July 25 at 2:00 pm
This Norwegian Fairy Tale, written by award winning playwright Tina Howe, is fun for all ages and will appeal to anyone who loves Beauty and the Beast. It is the coming of age story of Tove, a young girl who journeys with a polar bear and sees the wonders of the world. The bear, really a prince who has been cursed by an Evil Troll Princess, is doomed to marry the Princess unless Tove can break the spell. With the help of three hags and four winds, Tove must travel to the end of the world to break the curse, and save her polar bear prince. During her journey, Tove learns the value of keeping her word, as well as the importance of love and her own inner strength.​
Appropriate for all ages
The Mousetrap
July 31, August 1-2
7:30 pm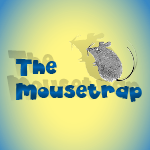 A group of strangers is stranded in a boarding house during a snow storm, one of whom is a murderer. The suspects include the newly married couple who run the house, and the suspicions in their minds nearly wreck their perfect marriage. Others are a spinster with a curious background, an architect who seems better equipped to be a chef, a retired Army major, a strange little man who claims his car has overturned in a drift, and a jurist who makes life miserable for everyone. Into their midst comes a policeman, traveling on skis. He no sooner arrives, when the jurist is killed. Two down, one to go. To get to the rationale of the murderer's pattern, the policeman probes the background of everyone present, and rattles a lot of skeletons. Another famous Agatha Christie switch finish! Chalk up another superb intrigue for the foremost mystery writer of her time.

Appropriate for ages 11 and up • The world's longest running play, now celebrating its Diamond Anniversary in its 60th year!

Leading Ladies

August 7-9 and 14-16
7:30 pm 

In this hilarious comedy by the author of Lend Me A Tenor and Moon Over Buffalo, two English Shakespearean actors, Jack and Leo, find themselves so down on their luck that they are performing "Scenes from Shakespeare" on the Moose Lodge circuit in the Amish country of Pennsylvania. When they hear that an old lady in York, PA, is about to die and leave her fortune to her two long lost English nephews, they resolve to pass themselves off as her beloved relatives and get the cash. The trouble is, when they get to York, they find out that the relatives aren't nephews, but nieces! Romantic entanglements abound, especially when Leo falls head-over-petticoat in love with the old lady's vivacious niece, Meg, who's engaged to the local minister. Meg knows that there's a wide world out there, but it's not until she meets "Maxine and Stephanie" that she finally gets a taste of it.

Appropriate for all ages

Hospitality Suite  

August 21-23
7:30 pm  

In a small hotel room high above Wichita, Kansas, conflicting notions of character, salesmanship, honesty, religion, and love simmer until they boil over as two experienced salesmen and a young research engineer await a CEO whose visit to their modest hospitality suite could save their company from ruin. (Adapted and produced for film as The Big Kahuna.)

Appropriate for mature audiences, adult language and themes  • Production sponsored by Libby Keenan.

A special thank you to Bells Furniture for allowing us to "borrow" furniture.


The Howmet Playhouse is a year-round venue. Be sure to visit the EVENTS menu for our complete schedule of plays, music, movies, and more.

<! end footer -->