The White Lake Dramatic Club
Our beloved White Lake Dramatic Club (WLDC) returns to The Playhouse at White Lake.
The first activity of the WLDC will be Playreading Night at The Playhouse December 6th with future dates to be announced. Then in the Spring of 2024 the WLDC will premier a new adaptation of The Elephant Man by Stage Partners. This play, as with all things WLDC, will offer West Michigan community members of all levels of experience (including none whatsoever!) the chance to volunteer as an actor, director, designer, or to assist with administrative and production support.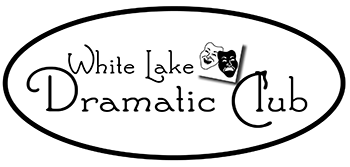 We're reaching out to find out who is excited to get involved with this Spring 2024, and if so, what your areas are of most interest?
Please take a few minutes to read the script summary below and then complete this online survey.  Even if you cannot be involved in this production, we'd still love to hear from you. We'll compile the interest from this survey to create our mailing lists and keep you informed about future opportunities. 
Thanks for being a member of The Playhouse WLDC community
Summary of The Elephant Man
Story Summary: The story of Joseph Merrick (a.k.a. The Elephant Man) comes to life in this highly theatrical retelling featuring an ensemble of performers that share the role of Merrick. Whether on a bare stage or with an elaborate set, this adaptable play shines the spotlight on the vivid inner life of Joseph Merrick, and his relationship with the good Dr. Treves. This classic story of the ultimate outcast feels as fresh and as relevant as ever.
Rehearsals: Our expectation is that rehearsals will likely take place in Feb/March/April of 2024, depending on the availability of community members who wish to be involved.
Production Date: Spring, 2024, likely a weekend in late April, by the White Lake Dramatic Club at The Playhouse at White Lake.
Questions?
Please use the Contact Us form on this website to ask any question or offer any comments.

Thanks for being part of our White Lake Dramatic Club revival

<! end footer -->