The 2015 Summer Theatre Festival
Every Thursday, Friday and Saturday
from July 7 through August 22
All Shows Begin at 7:30 pm (Unless otherwise noted)
The Summer Theatre Festival Cast and Playhouse Staff
Download the Summer Theatre Festival Program*
| | |
| --- | --- |
| The Summer Theatre Festival is brought to you in part by | |
Unnecessary Farce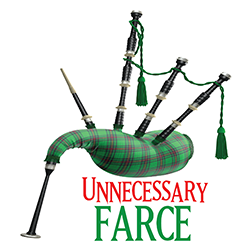 by Paul Slade Smith
Directed by Bryan Engler
July 9-11
7:30 pm  
Two cops. Three crooks. Eight doors. Go. In a cheap motel room, an embezzling mayor is supposed to meet with his female accountant, while in the room next-door, two undercover cops wait to catch the meeting on videotape. But there's some confusion as to who's in which room, who's being videotaped, who's taken the money, who's hired a hit man, and why the accountant keeps taking off her clothes.
Intended for mature audiences • Production Sponsored by Carmichael Heating and Air Conditioning
Central Michigan University Touring Company

July 16-18
Each show at 7:30 pm
The talented and always delightful students of CMU's Summer Theatre touring company are back by popular demand with these performances:
July 16 Don't Dress for Dinner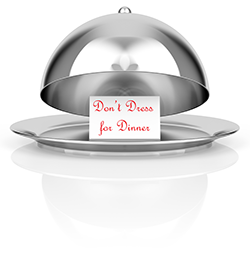 Bernard is planning a romantic weekend with his chic Parisian mistress in his charming converted French farmhouse, whilst his wife, Jacqueline, is away. He has arranged for a cordon bleu cook to prepare gourmet delights, and has invited his best friend, Robert, along as well to provide the alibi. It's foolproof; what could possibly go wrong? Well … suppose Robert turns up not realizing quite why he has been invited. Suppose Robert and Jacqueline are secret lovers, and consequently determined that Jacqueline will NOT leave for the weekend. Suppose the cook has to pretend to be the mistress and the mistress is unable to cook. Suppose everyone's alibi gets confused with everyone else's. An evening of hilarious confusion ensues as Bernard and Robert improvise at breakneck speed.
Mild adult themes; recommended for ages 14+
J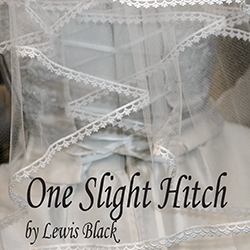 uly 17 One Slight Hitch 
It's Courtney's wedding day, and her mom, Delia, is making sure that everything is perfect. The groom is perfect, the dress is perfect, and the decorations (assuming they arrive) will be perfect. Then, like in any good farce the doorbell rings. And all hell breaks loose. So much for perfect.
Show intended for MATURE audiences
July 18 Jerry Finnegan's Sister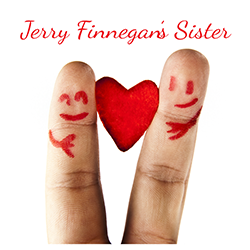 Brian Dowd has spent the last 10 years of his life wrestling with an unrequited "something" for his best friend's sister, who happens to live next door. But each and every time he's spoken with Beth Finnegan for more than 30 seconds, he's ended up with his foot planted firmly in his mouth. Now, Brian's time is about to run out. With recent news that Jerry Finnegan's sister is getting married, the time has come for him to put up or shut up. Like John Wayne in The High and the Mighty, Brian has reached the point of no return. What's he got to lose—except the love of his life! "A delight … a gem! Has enough chuckles, guffaws and belly laughs to please any patron."
Appropriate for all ages
White Lake Youth Theatre Presents
Around the World in 8 Plays
July 23, 24, 25
7:30 pm
Travel around the world and explore forgotten myths and unusual legends in eight fast-paced and hilarious tales! Guided by a band of roaming gypsies, the audience is transported from the ancient Far East, where a hero must kill a giant centipede to save a dragon king, to the Russian countryside, where a poor orphan must defeat three witches who stole his grandfather's eyes. Always quirky, and sometimes bizarre, these eight tales are filled with magic, mystery, and morals.
Appropriate for all ages
View Cast List
Deathtrap
July 30-31, August 1
7:30 pm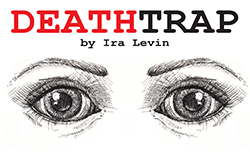 Seemingly comfortably ensconced in his charming Connecticut home, Sidney Bruhl, a successful writer of Broadway thrillers, is struggling to overcome a "dry" spell which has resulted in a string of failures and a shortage of funds. A possible break in his fortunes occurs when he receives a script from a student in the seminar he has been conducting at a nearby college—a thriller which Sidney recognizes immediately as a potential Broadway hit. Sidney's plan, which he devises with his wife's help, is to offer collaboration to the student, an idea which the younger man quickly accepts. Thereafter suspense mounts steadily as the plot begins to twist and turn with devilish cleverness, and with such an abundance of thrills and laughter, that audiences will be held enthralled until the final, startling moments of the play.
Appropriate for ages 14 and up • Production Sponsored by White Lake Community Fund
Cotton Patch Gospel, A Musical by Tom Key and Harry Chapin
August 6-8
7:30 pm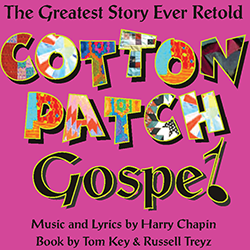 A dream come true. A breath of fresh air. Something good is happening. A reverential retelling of the book of Matthew. It takes the Bible's passionate intensity and directness for contemporary meaning into the popular vein without diluting it. —Contemporary Christian Music This "Greatest Story Ever Retold" is based on the book The Cotton Patch Version of Matthew and John by Clarence Jordan in which the Gospel is presented in a setting of rural Georgia with country music songs, the final and perhaps best work of Harry Chapin. As this Gospel begins, they sing that "Somethin's a-brewin' in Gainesville." Herod is the mayor of Atlanta and, inevitably, Christ is lynched by local thugs only to rise again. Drama critics loved this show and so did a broad spectrum of religious commentators.
Appropriate for all ages • Production sponsored by Cocoa Cottage Bed and Breakfast
Outside Mullingar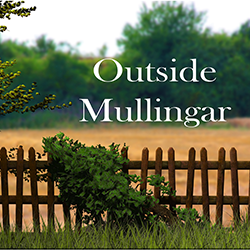 August 13-15
7:30 pm  
Outside Mullingar is the story of Anthony and Rosemary, two introverted misfits straddling 40. Anthony has spent his entire life on a cattle farm in rural Ireland. Rosemary lives right next door, determined to have him, watching the years slip away. With Anthony's father threatening to disinherit him and a land feud simmering between their families, Rosemary has every reason to fear romantic catastrophe. But these yearning, eccentric souls fight their way towards solid ground and some kind of happiness.
Appropriate for ages 13 and up  • Production sponsored by Libby Keenan

Love, Loss, and What I Wore
August 20-22
7:30 pm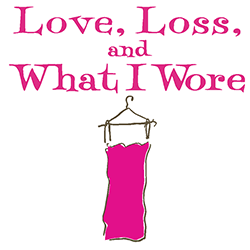 A collaborative with the West Michigan Symphony

Love, Loss, and What I Wore follows fragmented stories about the nostalgic power of women's clothing. A starry cast of five women enrobed in chic black sit on stools and tell funny, wistful and universal memories about their families and loved ones through the prism of their closets. The throughline is narrated by Gingy, a wise older woman who reminisces about what she wore at milestones in her life—complete with sketches of the styles. Like a long heart-to-heart with your best friend over coffee, the conversation meanders from a bittersweet story of a stepmother wearing the same style bathrobe as her husband's late wife (to the dismay of the children) to a couple's musings of what they wore on their wedding day to a rant about loathing the need to carry a purse. With odes to black clothing, cowboy boots and outfits that makes mothers cringe, Love, Loss and What I Wore is unabashedly girly—in a good way.

Intended for mature audiences • Production sponsored by Shelby State Bank and Gales Agency

The Howmet Playhouse is a year-round venue. Be sure to visit the EVENTS menu for our complete schedule of plays, music, movies, and more.

<! end footer -->