Ticket Options
Theater Box Office Hours
Season Passes are your best value. Make a single purchase, then pick and choose the plays you wish to attend. For further information about how Season Passes work, please visit the Tickets page.
Single Show Tickets
Content Advisory: The Playhouse does not offer advisories about subject matter as sensitivities vary from person to person. If you have any questions about content, age-appropriateness, or stage effects (such as strobe lights or theatrical fog) that might have a bearing on patron comfort, please Contact Us via this website or call (231) 894-0119.
back to top of page …
News from The Playhouse
The Summer Theatre Festival Production Team
The Summer Theatre Festival Brochure *

The Summer Theatre Festival 2023 is kindly underwritten by the Michigan Arts and Cultural Council
Leaving Iowa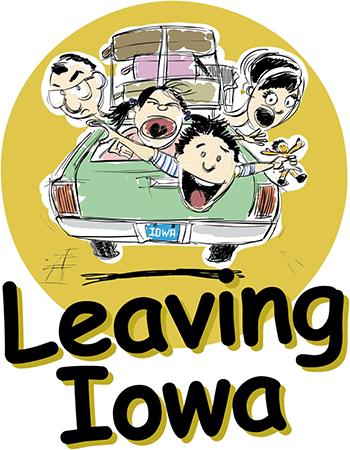 by Tim Clue
directed by Justin Sternburgh
June 30, July 1
7:30 pm
July 1, 2
2:00 pm
Tickets
$27 for the Evening Performances
$22 for the Matinee Performances
$12 Student Rush Tickets at the Box Office the Day of the Show
The spark behind Leaving Iowa comes from being children of parents from the now dubbed "greatest generation." The story is a toast to their idealism and character and a little roast of their undying dedication to the classic family road trip. More specifically, it is the story of Don Browning, a middle-aged writer, who returns home and decides to finally take his father's ashes to his childhood home, as requested. But when Don discovers Grandma's house is now a grocery store, he begins traveling across Iowa searching for a proper resting place for his father. This father-and-son road trip shifts smoothly from the present to Don's memories of the annual, torturous vacations of his childhood. Don's existential journey leads him to reconcile his past and present at the center of the United States. Leaving Iowa is a postcard to anyone who has ever found himself or herself driving alone on a road, revisiting fond memories of his or her youth. Premiered at the Purple Rose Theatre Company.
View the Leaving Iowa company …
This production is underwritten by the White Lake Area Chamber of Commerce.
---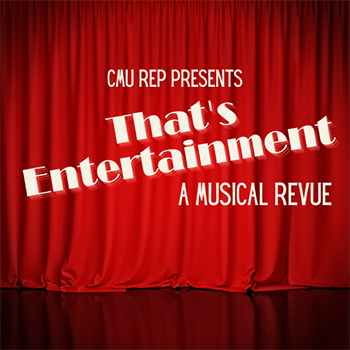 CMU Double Show Weekend
That's Entertainment! A Musical Revue
July 7
7:30 pm
Tickets:
$27
$12 Student Rush Tickets Available at the Box office the Day of the Show
That's Entertainment! A Musical Revue has been brought back by popular demand. The CMU Rep cast of talented actors, singers, and dancers will take you on a journey through some of the most beloved songs and scenes to ever grace the musical stage. An evening of entertainment you won't soon forget. Audiences will love this fun-filled evening full of the best songs from all of their favorite Broadway shows.
The 39 Steps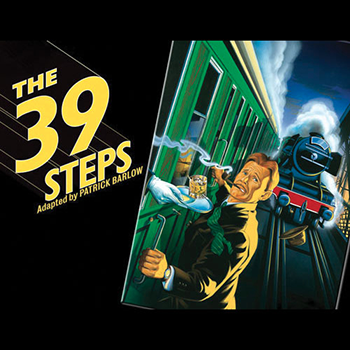 July 8
7:30pm
Tickets:
$27
$12 Student Rush Tickets Available at the Box office the Day of the Show
Combine a film masterpiece by Alfred Hitchcock with a juicy spy novel and add a large splash of Monty Python humor. The result? A fast-paced whodunit with four versatile actors portraying more than 50 roles!
It is London, 1935. The rather dull Richard Hannay encounters a woman who claims to be a spy. When she is suddenly murdered, Richard finds himself the focus of a nationwide manhunt led by a mysterious organization called The 39 Steps. This film noir gem is a hilarious comedy full of dazzling, inventive stagecraft and virtuoso performances that will have you rolling in the aisles until the death-defying, climatic finale. A fresh take on the classic adventure-comedy, The 39 Steps is theatre at its best—an absurd, delightful journey that can only be brought to life on stage.
---
Honky Tonk Angels
July 14, 15
7:30 pm
July 15, 16
2:00 pm
Tickets:
$27 for the Evening Performances
$22 for the Matinee Performances
$12 Student Rush Tickets at the Box Office the Day of the Show
Ted Swindley, of Always, Patsy Cline fame, has done it again. When three gutsy gals from different backgrounds take charge of their lives, they decide to follow their honky tonk dreams all the way to the city of Nashville. Combining 30 classic country tunes—including Stand By Your Man, 9 to 5, Harper Valley PTA, and more—Honky Tonk Angels is a hilarious, foot-stomping good time. "A highly enjoyable revue." Chicago Tribune
View the Honky Tonk Angels company …
This production is underwritten by the Gourmet Dinner Club: Frank & Susan Bednarek, Anne Dake, Jan & Laura Deur, Tom & Lynne Spencer, and Mrs. Shaw Walker
---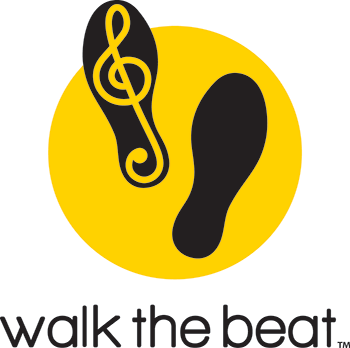 Walk the Beat—White Lake Area
July 22
1:00 to 5:00 pm (music festival)
July 22
5:30 to 8:00 pm (community pig roast)


Join your friends, family, and neighbors for the Second Annual Walk the Beat—White Lake Area Music Festival. There will be 19 different Venues in Whitehall and Montague, with a total of 40 Musical Acts. There will be a $5,000 Grand Prize Raffle plus $4,000 in FREE Door Prizes. After the music stops, join the Walk the Beat crew from 5:30 to 8:00 PM for a Community Pig Roast and Party at Goodrich Park.
The Playhouse will be one of the venues featuring Karen and Eric Smith (at 2:00 and 4:00 PM) and Tommy Foster and Justin Avdek (at 1:00 and 3:00 PM). Come by and listen to some great music, enter to win fabulous door prizes, and buy your raffle tickets. The Playhouse keeps 50% of all raffle ticket sales, so your purchases help support your community theatre!
---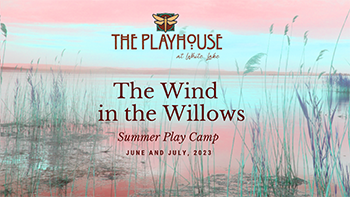 White Lake Youth Theatre Presents
The Wind in the Willows
a Musical By Mike Smith & Keith Dawson
directed by Cindy Beth Davis-Dykema
July 28, 29
6:30 pm
July 30
2:00 pm
Tickets:
$8 Adults
$5 Students
$25 Family Pass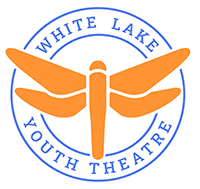 In celebration of their 50th Anniversary, The White Lake Youth Theatre offers a musical adaptation of the children's literature classic, The Wind in the Willows, this season.  The Wind in the Willows was first an award-winning book of animal tales by Kenneth Grahame, which began as a series of bedtime stories for his son, and was published in 1908. The beautifully written work, with its evocative descriptions of the countryside interspersed with exciting adventures, became a classic of English children's literature. This musical children's theatre version shares the adventures of several animal friends and neighbors in the English countryside—primarily Mole, Rat, Toad, and Badger. In this production, a large ensemble cast tells the story in an engaging, movement-rich presentation. Although the animals converse, philosophize, and behave like humans, each creature also retains its distinctive animal habits. The story begins when Mole decides to go to the riverbank one morning rather than do his spring cleaning. There he comes across his friend Rat, a water rat, and they spend the spring and summer together. One day they visit the irrepressible, generous, and boastful Mr. Toad, owner of Toad Hall, who possesses large amounts of money but not much brain. Toad is given to fads, and Mole and Rat join him in an excursion in his present enthusiasm, a horse-drawn caravan (a cart with beds and cooking equipment), until a speeding automobile frightens the horse and wrecks the caravan. While Mole and Rat are horrified by the contraption, Toad is completely mesmerized by the car. Mole and Rat later go to the Wild Wood to visit the kindly and responsible Badger, to whom they report that Toad has bought and smashed several automobiles. Together, they try to help their dear friend Mr. Toad after his obsession with motorcars gets him into all kinds of trouble. The cast detail many of Toad's adventures in a choral, musical fashion, as he eventually steals a car and gets arrested, escapes, and is finally rescued, ending in a celebratory feast among the friends on the river bank. Tied together with movement and starring a large, ensemble cast of 8-18 year olds from the West Michigan shoreline, this iconic children's story comes to life onstage, boldly portrayed by a wide range of ages and actors in our White Lake Youth Theatre company.
View the Wind in the Willows company …
This production is generously underwritten by Carmichael Heating and Air Conditioning
---
Superstar. The Carpenters Reimagined
Starring West-End/Broadway Artist and Producer Helen Welch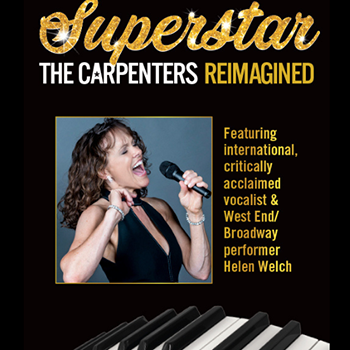 August 5
7:30 pm

Tickets:
$27
$12 Student Rush Tickets Available at the Box office the Day of the Show
A celebration of the music that moved an entire generation. Richard Carpenter has given his blessing to greenlight the new, live docu-musical Superstar. The Songs. The Stories. The Carpenters. An original, fresh perspective of songs woven together with rare and fascinating back-stage stories that finally captures the true quality and essence of The Carpenters. Helen's distinctive alto voice settles in perfectly amidst the precise, lush new arrangements of songs such as: Close To You, We've Only Just Begun, Top of the World as well as the title song Superstar. This show honors the timeless music of The Carpenters. So come and join us on this nostalgic musical journey. We dare you not to sing along!
About the Artist
Helen Welch is an internationally acclaimed vocalist, entertainer, producer, and bandleader. Her unique talent for arranging songs to make them her own, coupled with her ability to intimately engage her audience, has quickly earned her a large and devoted following around the globe. A native of England, Helen began her career on television's Romper Room. Since her early success she has headlined with world-class organizations such as the BBC Big Band, Glen Miller Europe, Opus One and others at some of the UK's most prestigious venues including: The Ritz, The Savoy, Blenheim Palace, The Grosvenor House Great Room, and many theatres in London's West End. Additionally, she held starring roles in a variety of popular musicals including: Hello Dolly, Barnum, Carousel, 42nd Street, Calamity Jane, and Oliver Twist. After a very successful run in the UK, Helen relocated to the United States to guest star in the Broadway musical Smokey Joe's Café. Her success awarded her opportunities to sing with the Blossom Festival Orchestra, Grant Park Symphony Orchestra (Chicago), the Florida Symphony, the Columbus Jazz Orchestra, and more. Since that time Helen has been producing and starring in a number of her own shows for Cleveland's Playhouse Square, the Akron Civic Theatre, the Chautauqua Institution, E.J.Thomas Hall, Breckenridge Summer Festival, and a whole host of other venues across the country. She is repeatedly asked to return to venues in which she has performed.
Youtube Video: Superstar. The Carpenters Reimagined
---
The Book of Will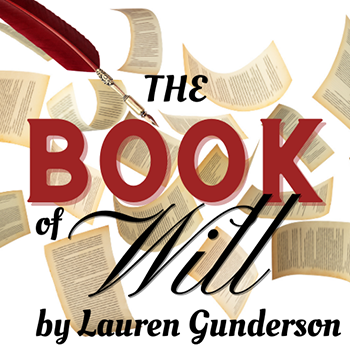 August 11, 12
7:30 pm
August 12, 13
2:00 pm
Tickets:
$27 for the Evening Performances
$22 for the Matinee Performances
$12 Student Rush Tickets at the Box Office the Day of the Show!
The Playhouse at White Lake is pleased to partner with the Actors' Workshop of West Michigan to produce The Book of Will. The King's Men are getting the band back together. Their goal: to gather the Bard's scattered masterpieces and save his words before they're lost to history. Shakespeare has barely been dead for three years when a pirated Hamlet rip-off hits a stage near the Globe Theatre. His old acting troupe friends are livid. To save Will's works for the ages, they hatch a near-impossible plan to collect his words on paper, setting them off on a bonkers race against time through London. Their hearts are on the line and those they love are counting on them—to maybe leave a legacy that will last forever.
Lauren Gunderson is one of the US's most celebrated and widely performed playwrights, most recently writing the acclaimed adaptation of The Time Traveller's Wife. "[Gunderson] has peopled the stage with lively, historically based characters … She paints a vivid portrait of the times in language sometimes formal, sometimes poetic and often … contemporary … She also gives a real feel for theater life and what it means to be an actor; you sense this is a work of both scholarship and love … [The Book of Will] serves as homage to those who sacrificed to make the first folio happen and to Shakespeare's magnificent words." -Westword (Denver, CO)
View the Book of Will company …
This production was underwritten by Libby Keenan
---
Beau Jest—A Romantic Comedy

August 18, 19
7:30 pm
August 19, 20
2:00 pm

Tickets:
$27 for the Evening Performances
$22 for the Matinee Performances
$12 Student Rush Tickets at the Box Office the Day of the Show

What do you do when your boyfriend just isn't the kind you can bring home to your parents? It isn't that he doesn't have a good job or is a criminal or is involved in shady past times. In fact, he's a well-to-do sales executive and an all-around nice guy. No, the problem is, he just isn't Jewish enough. As in, at all. Backed into a corner with no way out, Sarah Goldman invents the 'perfect' guy—just the one her parents want to meet over dinner. She hires someone from an escort service to play the part of her boyfriend. Bob shows up and hilarity ensues as the family arrives and he tries to fake his way through a meal and into their hearts.

View the Beau Jest company …

This production was underwritten by Eastbrook Homes

<! end footer -->